Strength in Wide Business as a Complete Home Provider
Fuji Corporation is a 'complete home provider' meeting every possible need for living spaces. In its early years, Fuji Corporation was involved in all aspects of the detached homes business: procuring land, obtaining regulatory approval, designing, constructing, and selling the houses. We then built up know-how in the design and construction of for-sale condominiums. This was followed by the establishment of our real estate management business for the rental apartment sector. These businesses grew into the Effective Land Utilization segment for contract construction of apartments and condominiums. We also proceeded to launch a business for the sale of rental apartments to investors, as well as a business for custom-built housing.
With business operations firmly rooted in the local community, we ensure synergy among our wide range of home-related business segments, and we keep effort to provide our customers with a range of real estate products and services for more satisfaction.
Renovation and Sale of Used Residential Properties Leverages Wealth of Know-How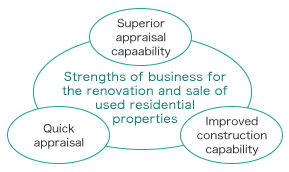 Fuji Corporation's business for the renovation and sale of residential properties, called 'Kaizo-kun', derives from the company's know-how, built up since its foundation, in housing brokerage and home renovation. This three-step business process, purchasing existing homes, renovating them, and selling them, represents a unique advantage that we hold in the market. Our strength in this business derives from the ability to gather information through our community-based network and our manualized procedures for renovation, which combines to result in extremely marketable used homes.
In our business of purchasing used homes, there are cases where the home seller has not yet completed the registration of transfer of inheritance. Even in these cases, we have Fuji Home Bank, through which we work with judicial scriveners who take care of the necessary paperwork for registration. The fees associated with registration can be deducted from the buy-sell transaction amount of the house. This saves the home seller time and effort.
Solutions for Land Use to Boost Earning Power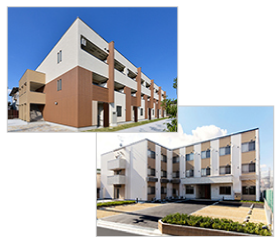 Fuji Corporation does more than just offer solutions for land use. We conduct market surveys, and we plan, design, and construct buildings that we lease and manage. And we maximize these functions through our strength as a comprehensive real estate developer. We can offer customers expert consultation on all related matters including buying and selling of land, rebuilding of condominiums and apartments, and legal and tax matters.
In the area of rental housing, we ensure long-term, stable operations by having our trained marketing staff conduct meticulous market surveys and select the very best land sites from the wide selection available. And the pre-owned homes we purchase are only quality houses in optimal locations. For our rental business, we support building owners with a sublease system to ensure they get the safe, secure and stable rental housing management they need.